Howdy Ya'll
Do what yer' Momma said...
Go Play!
| | |
| --- | --- |
| Share on: | |
Just had to try it out
Apparently I got calculations just right. I was worried about having enough or too much distance between the posts. Now I'm sure that other builders will start asking questions here. Like "why don't you build both wings at the same time?". Very simple, I aint' got no room to do both wings at the same time. Momma is very protective of "her side" of the garage. The other question is probably "why don't you have steel angles to attach the bottom spar?" I have heard that this new "pre-drilled" wing aligns itself quite well and the bottom spar can float freely and is forced to line up perfectly with the top spar. Time to get to work!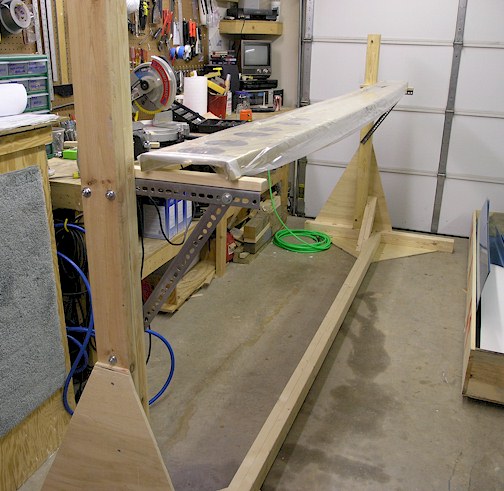 HELP FOR THE HOMEBUILDER

A website designed for Van's Aircraft Homebuilders, helping them find the information they need to build the most dynamic aircraft in the world.

The "cover your butt" section
This website was built to document the construction of an RV-9A in compliance with the FAA requirements needed to certify the aircraft. Any experiences and/or comments are by no means to be considered as instructions on how to build an RV-9A or any other aircraft.

This is website is owned and published by OpenAirNet, Inc. © 2015. All rights reserved.