RV-9A: Right Fuel Tank - 2/4/2007
Home
Previous Entry
Next Entry
Back
Share on: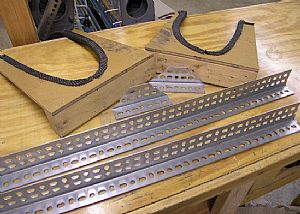 Decided to build a jig for the fuel tank
This time, I'm going to avoid the wrestling match with prosealing the ribs into the right fuel tank. This jig will hold the tank at an angle to allow me proseal in the ribs more easily. I went to Lowes (aircraft and lumber supply) and bought these steel angles. I cut 4 pieces from the long angles and put 45 degree angle cuts on the ends of each. 2 of them are shown here.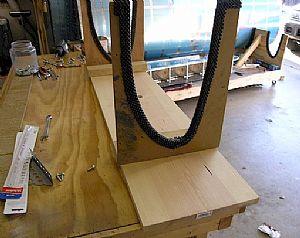 Screwed the tank jigs to a straight 1 x 12
I made sure that this 1 x 12 was straight and level to avoid twisting the tank.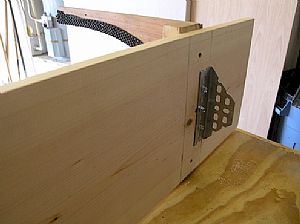 Attached the steel angles to the bottom of the 1 x 12
I made sure to position the jigs to where they won't interfere with riveting the ribs.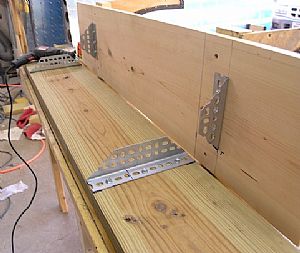 Attached the other 2 steel angles to the bottom of a 2 x 10
I positioned these lower angles to where the upper angles won't interfere them.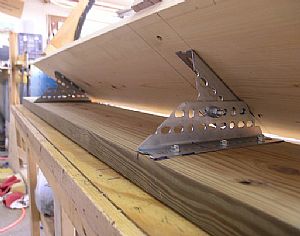 Bolted everything together
I used regular washers and lock washers on the bolts to make sure the upper angles don't shift to easily.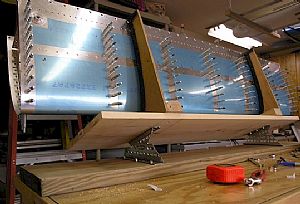 Tried it out
Yep, this is gonna' work! It should free up a hand to make riveting and prosealing easier.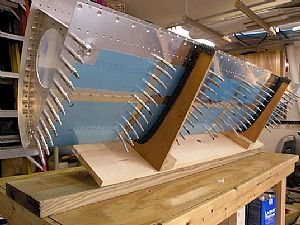 Another shot
I like it already!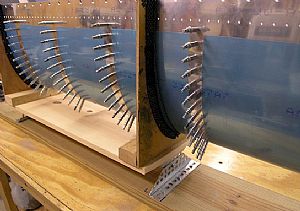 Cut off the ends of the 1 x 12
I could see right away that the end of the 1 x 12 would interfere with the rivet gun on the bottom 3 rivets on the top side of the skin. So I cut off the ends. I will shift the tank left and right in the jig to put in these rivets.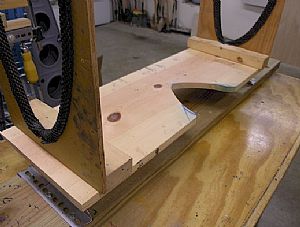 One more modification
All of the ribs but the center one will be accessible by shifting the tank left and right in the jig. I made this cut-out on the 1x12 to allow me access to the bottom 3 rivets of the center rib on the top skin. The bottom skin will be easy to get to, so no cut-out will be needed on the other side.

Home Previous Entry Next Entry Back



SmittysRV.com is an Amazon Associate